The art of selling: Davenport businesses help local artists make a living
Jun 10, 2018
'It's hard to hang your hat on being an artist'
Next door at the Bucktown Center for the Arts, two retired teachers coordinate their schedules, still learning how to balance operating two art galleries.
Jim Elias has owned Sunrise Gallery in Muscatine since 2016. While the gallery has had success selling the work of 12 local artists, Elias kept his position as a business professor at Muscatine Community College.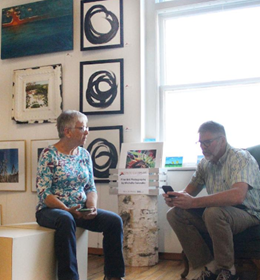 His career path took a turn this past year, though, when designers of Muscatine's new Merrill Hotel and Conference Center approached the gallery.
"They were looking for local art and we ended up outfitting the Merrill with over 300 pieces of art," Elias said. "It was validation that this really can be a business — that people like and appreciate our art, and that they're buying it to the point they want to reproduce it."
The sale encouraged Elias to retire from his position and open a second location at Bucktown in Davenport. The gallery opened last week, and also will be run by Muscatine resident Shelly Servadio and retired teacher Jane Doty.
"It's exciting and it just gives you a purpose — a purpose with something I already had a passion for," Doty said. "It's nice taking something you love to do and actually doing something with it. It's hard to hang your hat on being an artist. It takes a while to build that up. But having my art in the hotel helped me feel like, OK, I'm really an artist. It verified that."
By taking on the order, Elias learned that reproducing copies of artwork could be a way to make it in the commercial market. He has begun selling reproductions online, and hopes to supply art for other hotels or commercial developments.
"You can get a reproduction of Van Gogh's 'Starry Night' if that's what you want, but why not get a reproduction of Jane Doty's 74 bridge?" Elias said. "It's less the art, and more the story behind the art that people are buying. People want the local connection."